Outside Your Window
ISBN: 076365549X
Publication Date: 2012-02-14
The National Audubon Society
ISBN: 0789401398
Publication Date: 1995-09-09
Ruby-Throated Hummingbirds
ISBN: 1562395866
Publication Date: 1997-01-01
The Hummingbird in the Flowers
ISBN: 0789403374
Publication Date: 1989-01-01
The National Audubon Society North American Birdfeeder
ISBN: 0789403374
Publication Date: 1995-09-09
Birding
ISBN: 0783547528
Publication Date: 1999-05-01
Simon and Schuster Children's Guide to Birds
ISBN: 0689801998
Publication Date: 1996-04-01
Hummingbird Food Recipe Make Your Own Nectar
To make your hummingbird food recipe solution, follow these instructions without deviation from ingredients. When creating a sugar solution for your feeder, the best ratio is 1 part white, granulated sugar to 4 parts water, since this closely approximates the concentrations found in the nectar of wildflowers they prefer.
To make a little over 1 cup of hummingbird nectar recipe solution (normally enough to fill a standard feeder) follow the below directions: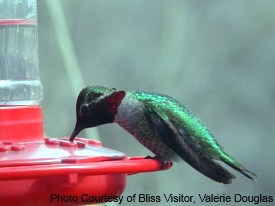 Make sure your feeder is cleaned thoroughly before adding new solution.
Boil 1 cup of water.
Stir 1/4 cup of white granulated sugar into the 1 cup of heated water.
Stir until sugar dissolves.
Cool, fill your hummingbird feeder and serve!

Any leftover nectar can be stored in the refrigerator for 2 weeks.